ASIAWATER Hybrid Event 2022 offers the most effective marketing platform for global manufacturers and suppliers to gain access to the water and wastewater industry in Asia. ASIAWATER Hybrid Event 2022 also provides the perfect opportunity for exhibitors to meet with potential buyers from around the globe, who are in search for quality water and wastewater solution. Secure your space at ASIAWATER Hybrid Event 2022 now!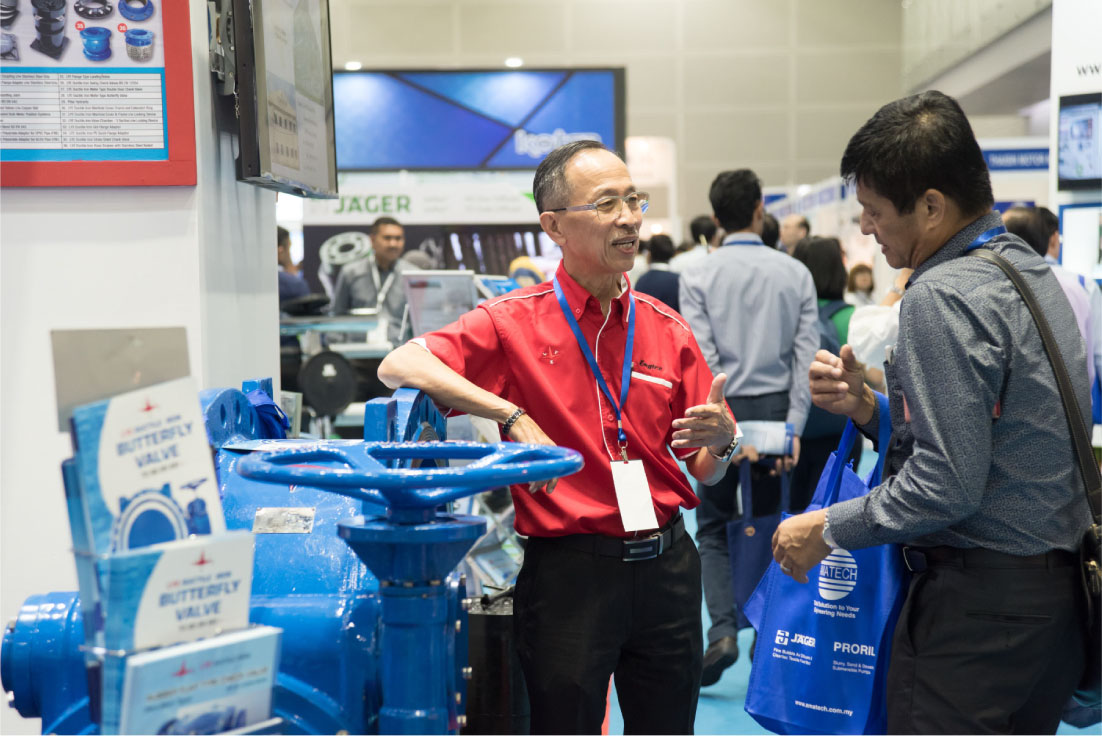 Meet buyers from the Asian market
Connect with quality trade visitors from more than 65 countries and regions
Your Chance to Connect and Build Networks
ASIAWATER is a meeting point that brings together over 17,222 quality trade visitors and buyers, making it the best place for unlimited business opportunities.
Explore New Markets and Find New Buyers
ASIAWATER brings together quality trade buyers from 65 countries and regions, opening up new market opportunities for you to explore.
The Best Place to Launch New Products
With all the leading industry players, decision makers and regulators converging in one place, ASIAWATER provides the best platform and opportunity for you to do any new product launch and reach your intended audience effectively.
As we strive to always deliver the best, here's what some exhibitors have to say about us.
Total Business Cards Exchanged
Thank you for attending the ASIAWATER Virtual Event 2020 which was held from 30 November - 2 December 2020. We appreciate of the strong show of support by our sponsors, exhibitors, trade visitors & buyers, partners and speakers in making ASIAWATER Virtual Event 2020 a success. We look forward to hosting you again at our upcoming ASIAWATER Hybrid Event in 2022!

For more details on the highlights please download our Post Show Report.
*Top 5 Visitor by Industry Classification
*All statistics above are based on our post-show report of ASIAWATER Virtual Event 2020
*Top 5 Visitors by Job Title
*All statistics above are based on our post-show report of ASIAWATER Virtual Event 2020
You and your organisation can choose from our range of participating options below, depending on your needs. The cost of participation is determined by the booth size, choice of package and location. Submit the "Book A Stand" form and we will be in touch with you.
Note: For Virtual Booth, please use the "Book A Stand" form or you can Contact Us to get the package pricing. 
Bare Space Only
MYR 1599 / USD 478 per sqm

Be noticed by being different - build your own booth and enjoy the flexibility of creating your own space.
Walk-On Package
MYR 1,730 / USD 544 per sqm

Our Walk-On Package offers an all-inclusive, hassle-free exhibition solution, saving you both time and money.
Pavilion Package
MYR 2,101 / USD 614 per sqm

Should you need more space or if you plan to have a country pavilion, this package is perfect for you and your brand.
Virtual Booth
Couldn't travel and participate physically at ASIAWATER? Then this option is perfect for you and your organisation.
Planning your journey to the exhibition venue early is important and will make life so much easier. There are several ways to get to Kuala Lumpur Convention Center (KLCC) from our partnering official hotels or if you are coming via Trains or Cars. Below are some of the options we recommend to travel to KLCC.
Take the Light Rail Train (LRT), Kelana Jaya Line and disembark at the KLCC Station. Turn left after existing the turnstiles and walk through the Suria KLCC shopping center Concourse Level to the Center Court. Turn left and make your way past Cold Storage to the Guardian Pharmacy where there is a covered walkway through to the Center. Take the elevator to the Ground Floor where you be directed to the Registration area.
If you are coming via a taxi or a chauffeured car, approach the Center along Jalan Pinang and turn left into the Main Entrance (second turn after the Mandarin Oriental Hotel) for drop off.
For those who drives can park at the KL Convention Centre or Suria KLCC shopping centre's parking. 
From Suria KLCC shopping center's Ground Level Center Court, take the Park Exit into the KLCC Park and turn right. Follow the Esplanade towards the Mandarin Oriental Hotel and then take the path around the edge of the park towards the center of the building and enter via the Park Entrance.
We negotiate special deals with great hotels especially for ASIAWATER exhibitors. Simply book using the provided booking forms.
Click below to find out more about our partnering hotels and to access booking forms.
A valid passport (and visa if applicable) is required for all individuals entering Malaysia. Immigration requests that your passport be valid for at least 6 months. Exhibitors are advised to check the visa information provided at the Ministry of Foreign Affairs, Malaysia. Most foreign visitors to Malaysia can enter with just a passport.
Exhibitors from the following countries require a visa:
Note: For countries marked with ( * ) are allowed to enter Malaysia by air only. Israel citizen** who wish to enter requires Visa and approval from Ministry Of Home Affairs, Malaysia. Visa is not required for a stay of less than one (1) month for ASEAN nationals except Myanmar. Visas are required for the duration of stay exceeds (1) month except for Brunei and Singapore nationals.
Exhibitors from the following countries are required to produce a Yellow Fever certificate upon arrival in Malaysia:
Do not, under any circumstances, make any payment or sign any forms from these companies:
Expo Guide
FairGuide.com
Construct Data Verlag
International Fairs Directory

These names target companies through legitimate exhibition guides. Their current activities cover companies throughout Europe, the Americas and Asia.
Expo Guide claims to offer digital media exposure to ASIAWATER exhibitors. They send billing invoices to exhibitors – with ASIAWATER logo and the corresponding fee –  requiring the exhibitors to made the payment.
Another way is the online listing services form which resembles an organiser's free catalogue listing service, inviting exhibitors to complete the form for an entry in an online directory. Unsuspecting exhibitors who sign and return the form are then contracted into a three-year, non-contractable agreement, which could cost you a significant amount of money, with no foreseeable benefits.
Included in their group is debt collection agency Gravis Inkasso Gmbh and Swiss debt collection agency Premium Recovery AG (a Construct Data Subsidiary) which works in partnership with the various guides to intimidate exhibitors into paying. 
These publications have no connection with us, or any of our events.
Please be guided accordingly.
Amplify your brand presence with us
ASIAWATER 2022 offers a variety of marketing and promotional opportunities. Contact us today to find out more!