ASIAWATER hybrid event 2022
ASIAWATER is the most comprehensive international water & wastewater event for emerging ASEAN, showcasing solutions in the fields of water management, sewerage, industrial wastewater, purification, irrigation and water resources management as well as the latest technology from around the globe with attendance of crucial buyers and sellers from all segments of the water and wastewater industry.
The region's leading water & wastewater event for developing Asia
ASIAWATER, the region's leading water & wastewater event for developing Asia in its 12th Edition, will bring together for the first time ever the most extensive line-up of leading industry players and experts both PHYSICALLY and VIRTUALLY in one Hybrid Event.

This highly sought-after water event, will provide a sea of trade opportunities for players from every sector in the water industry, connecting over 17,000 live and 5,000 online visiting industry professionals from 65 countries, to elevate their business further and strengthen networking among each other.
ASIAWATER will be accompanied by free-to-attend Conferences & Seminars in hybrid format that brings together live and virtual audiences, featuring leading industry experts addressing current issues and opportunities, latest technologies and challenges within the water and wastewater industry.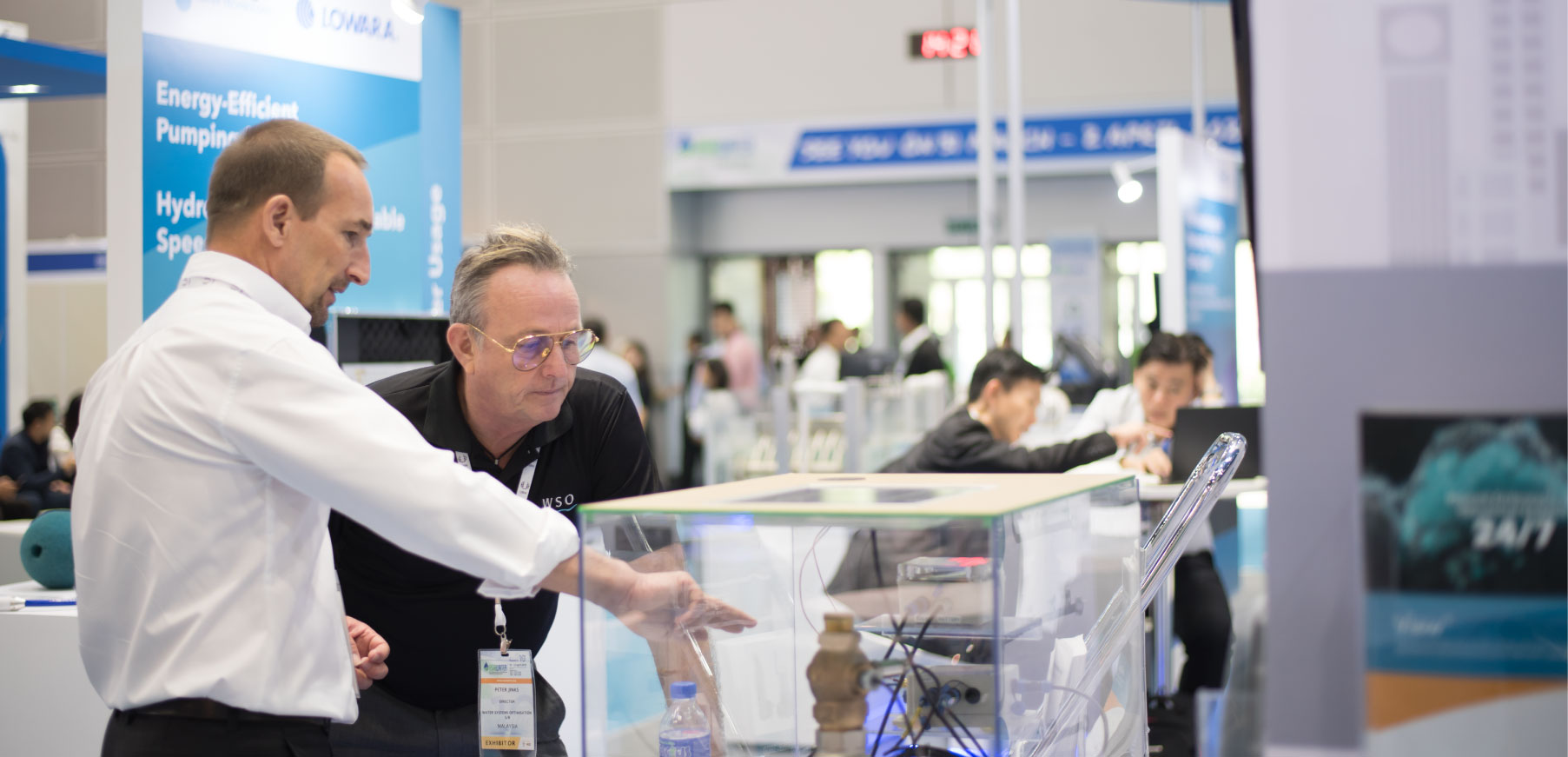 Why & What is a Hybrid Event
ASIAWATER Hybrid Event: where Virtual meets Reality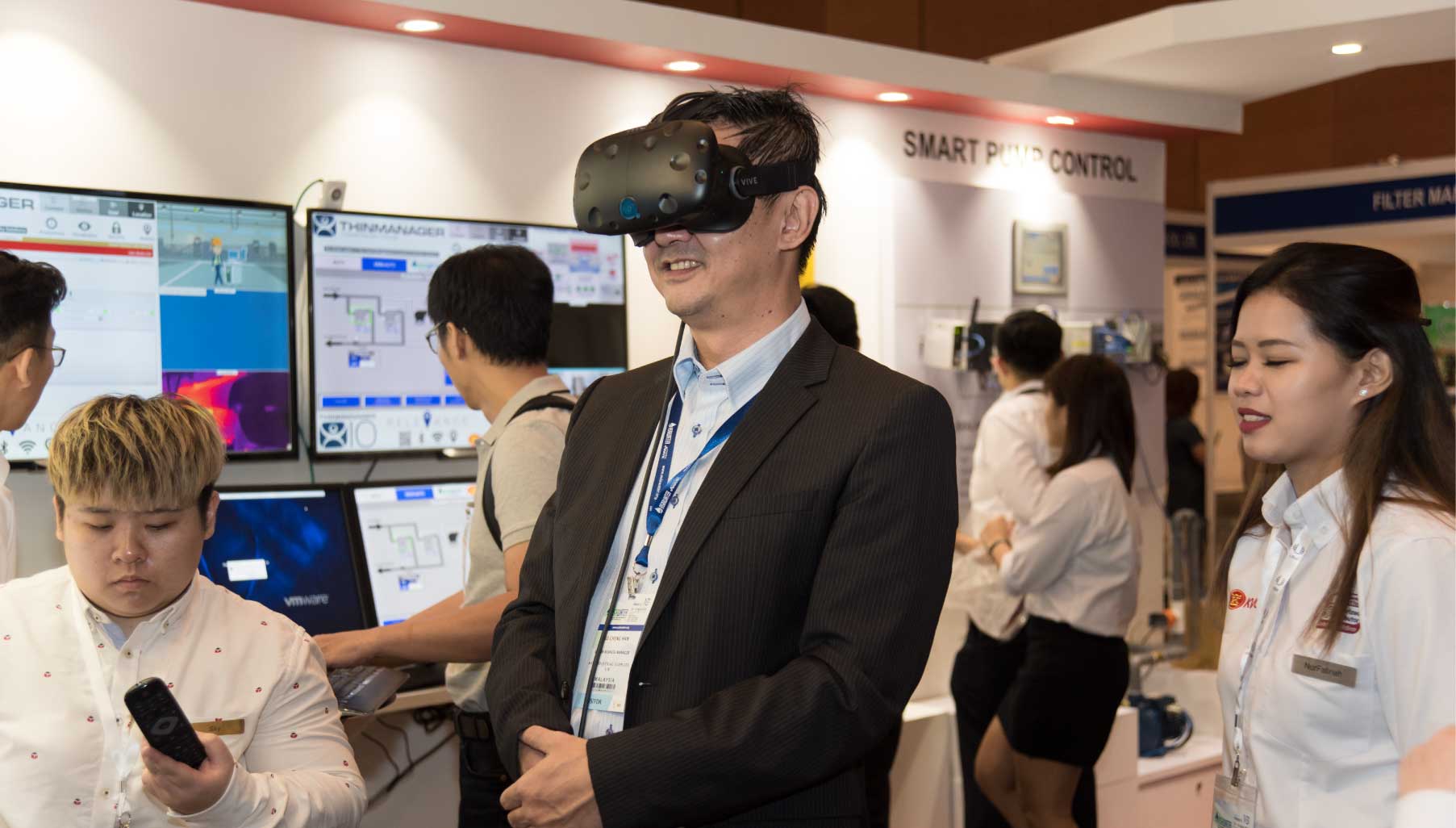 One Hybrid Event, Infinite Possibilities
With the recent global pandemic, businesses around the globe has been badly affected due to travel restrictions, which directly inhibits business dealings and face-to-face interactions.

This is why ASIAWATER 2022 will be going Hybrid this time, as we understand the needs for businesses to stay connected and continue to strive during these trying times. Through our Hybrid Event we are confident that businesses and networking can continue as usual, be it via face-to face meetings (Physical Event) or online (Virtual Event).
What is ASIAWATER Hybrid Event
ASIAWATER Hybrid Event is an event where we combine both live and virtual event components (physical event + virtual event). Both the live and virtual components of the event will run concurrently during ASIAWATER Hybrid Event 2022 this coming 7 – 9 December 2022.
Through ASIAWATER Hybrid Event 2022, connecting global water and wastewater industry communities will be made possible, as our platform provides networking opportunities for both our live and virtual participants, where everyone can have business interactions, connect and learn while having fun, all in one place!
Exhibitor & Visitor Participation
What it means to participate in our Hybrid Event
Exhibitors participating physically will also get a virtual booth for FREE. This will help facilitate physical exhibitors to be able to interact and communicate with both Online (attending virtually) and Offline (attending on-site) Visitors.
Exhibitors who can't participate physically at ASIAWATER 2022 will still be able to participate through our virtual exhibition platform. Our online platform will help facilitate our virtual exhibitors to connect, communicate and interact with visitors, be it online (attending virtually) or offline (attending on-site) visitors. We will also provide our virtual exhibitors a physical kiosk where our on-site attending visitors can connect with virtual exhibitors. Contact our team to find out more!
Physical Visitors (attending on-site) can fully utilise face-to-face meetings with live on-site exhibitors as well as online (chat and video call function) meetings with virtual exhibitors.
For Visitors who can't travel, they can fully utilise our online (Virtual) platform to browse through products and exhibitors, giving online visitors the ability to connect with both live on-site and virtual exhibitors. 
SQM Exhibition Floor Space
Exhibiting Companies & Brands
International & Regional Pavilions
Quality Trade Attendees from 32 Countries
Quality Trade Attendees from 65 Countries
Exhibiting Companies & Brands
Virtual Conference Sessions
Thank you for attending the ASIAWATER Virtual Event 2020 which was held from 30 November - 2 December 2020. We appreciate of the strong show of support by our sponsors, exhibitors, trade visitors & buyers, partners and speakers in making ASIAWATER Virtual Event 2020 a success. We look forward to hosting you again at our upcoming ASIAWATER Hybrid Event in 2022!

For more details on the highlights please download our Post Show Report.
ASIAWATER Hybrid Event 2022 is organised by Informa Markets, which is part of Informa PLC, a leading B2B information services group and the largest B2B events organiser in the world. Informa Markets creates platforms for industries and specialist markets to trade, innovate and grow. Our portfolio is comprised of more than 550 international B2B events and brands in markets including Healthcare & Pharmaceuticals, Infrastructure, Construction & Real Estate, Fashion & Apparel, Hospitality, Food & Beverage, and Health & Nutrition, among others. We provide customers and partners around the globe with opportunities to engage, experience and do business through face-to-face exhibitions, specialist digital content and actionable data solutions. As the world's leading exhibitions organiser, we bring a diverse range of specialist markets to life, unlocking opportunities and helping them to thrive 365 days of the year.
The Water & Wastewater
Industry in ASEAN
Current Water Situation and Opportunities in ASEAN
The still emerging Asia-Pacific (APAC) Water and Wastewater Services(WWWS) market is a hotbed of opportunities, driven by region-wide economic development, environment government policies, and the shift in global Foreign Direct Investment (FDI) towards Asia. It is expected to grow at a Compound Annual Growth Rate (CAGR) of 5.82 percent between 2017 and 2022, driving the market from US$147.58 billion to US$195.78 billion. While the Operation & Maintenance (O&M) sector will grow at a CAGR of 6.8 percent, Design & Engineering (D&E) will grow at 5.5 percent. To increase this growth rate, participants need to identify and partner with local players or invest in on-the-ground presence.
With positive economic growth in the region, rapid industrial and population growth is inevitable. Demand for water will increase exponentially especially in industrial and agricultural use, as these are one of the main driving economic forces in Southeast Asia. Besides industrial and agriculture, rapid population growth will add more stress to the region's water resources. Thus, proper water resources management system is required in order to have a sustainable water future in the region.
Rapid Urbanisation, Climate Change, and Water Demands
By the year 2050, it is projected that around 70% of the population in Asia will reside in city areas. Presently there are about 269 million Asians that do not have access to clean water supply and this is due to the exponential increase in Asia's urban population and the inadequate infrastructure in most Asian countries.
According to the 2030 Water Resources Group, the gap between global water supply and demand is projected to reach 40% by 2030, and in many places, demand is already exceeding sustainable supply. Access to clean water, disposal of sewage and wastewater, water conservation, reuse, and sanitation are critical for a growing city's competing demands – from the public and industrial.
Industrial & Agricultural Water Demand and Untreated Wastewater
The agriculture industry accounts for roughly 70% of total freshwater withdrawals globally and for over 90% in the majority of Least Developed Countries (LDCs), which includes countries in Asia. Without improved efficiency measures, agriculture water consumption is expected to increase by about 20% globally by 2050.
Projected increase in water demand, primarily from manufacturing, electricity and domestic use will generate further stress on water resources and possibly impact water allocation for irrigation. Water demand for energy, and electricity generation, in particular, will grow significantly as energy demand is expected to grow by more than one third in the period of 2010 – 2035.
Besides water usage and demand, the rate of untreated wastewater in Asia is alarmingly high. According to United Nations Economic and Social Commission for Asia and the Pacific (UNESCAP), 80 – 90% of wastewater from industrial usage and agriculture industry is being discharged into rivers and the sea with no proper treatment. In the Philippines, for example, only 10% of wastewater is treated while in Indonesia the figure is 14%, followed by Vietnam 4% and India 9%. As a consequence of this, untreated wastewater contaminated the overall water ecosystem. By 2030, The United Nations are aiming to reduce the percentage of untreated water by half.
Amplify your brand presence with us
ASIAWATER 2022 offers a variety of marketing and promotional opportunities. Contact us today to find out more!